New Batch of Cookies Fresh From the Oven
What's Cooking at Forest Products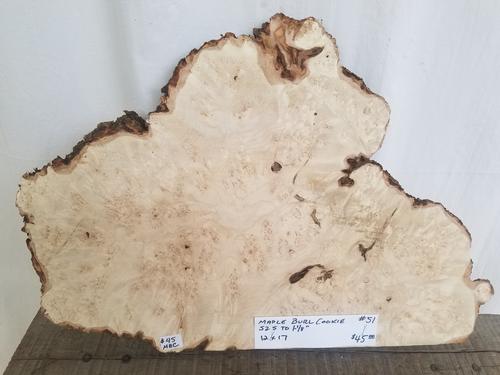 Welcome to the newest version of Forest Products' website.
We have a new batch of Cookies out of the kiln. The attached picture of a Maple Burl Cookie (#51) is our May raffle item. Spend at least $50 at Forest Products and get a raffle ticket to enter the drawing. Like us and Follow us on Facebook. See who wins! See what the next raffle will be!
We are working toward making our Cookies, Live Edge Slabs, Messmers' products, M1 Tapes, and our extensive Lumber choices more available online. This is a work in progress, and so we have LOTS of pictures for you to see what we are up to. Keep an eye on ITEMS FOR SALE as this is where we will be putting info out on each piece. Call us at 413-772-6833 if you spot something that shouts your name. We can tag it until you can get here, or arrange shipping.
For more information on this or anything else call us at 413-772-6833, visit our warehouse at 75 Oak Hill Road, Greenfield, MA 01301, or visit our website ForestProductsAssociates.com.
Posted: to Items for Sale on Thu, May 9, 2019
Updated: Fri, May 10, 2019